Jobs in AI / crowdsourcing / human computation research
I am always looking for motivated students. At the moment there are unfortunately no open (paid) positions, but let me know by email if you are in need of a master's thesis topic.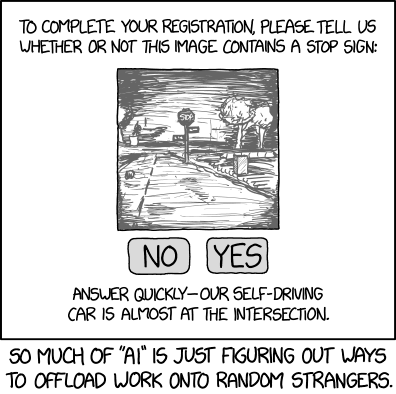 image credit: Randall Munroe, xkcd
Are you interested in "offloading work to random strangers" (see figure), possibly with the objective of making machines more intelligent?
Are you looking for a master's thesis topic, and possibly (but not necessarily) interested in pursuing a doctoral degree afterwards?
Do you have experience in either
user studies (plus good knowledge of web programming, front- and back-end) OR
algorithm design (including relevant mathematics and analysis skills)?
(Of course you can be interested in both, but that's not really a requirement.)
Below are two illustrative examples of research on this topic, but your own ideas are of course always welcome. Theme 1 is more hands-on, while Theme 2 allows for some nice theoretical work.
Theme 1: Crowdsourced natural language training data for machine learning
Natural language user interfaces (e.g. chatbots) allow the user to simply talk to the computer, much like they would to another person. To build a natural language UI using machine learning requires usually very large amounts of training data. The objective is to study the use of crowdsourcing techniques, for example "games with a purpose" for collecting such training data without implementing the, possibly costly, final user interface.
Theme 2: Human powered data analysis with relative distance comparisons
The input to several data analysis algorithms is a distance matrix with pairwise distances between data items. Commonly this matrix is defined e.g. in terms of the Euclidean distance between feature vectors. However, computing absolute (Euclidean or other) distances is not feasible e.g. if the distance information is obtained from a crowd of human annotators. The objective is to design and analyse, say, clustering algorithms that use (possibly noisy) relative distance comparisons.
Further information
Antti Ukkonen, D.Sc.(tech), Academy Research Fellow
antti.ukkonen (at) helsinki.fi